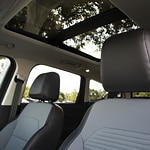 The Ford Escape is a compact SUV that has been attracting a lot of attention for its features, which include a plethora of tech gadgets, safety tech, and more. Here at Baierl Ford, we also have been impressed with the Escape's inclusion of capability features.
The Escape comes with a variety of capability features, each with the intention of increasing the vehicle's overall usefulness and efficiency. With four different engine options, the Escape definitely holds its own in terms of customer choice - the vehicle also comes with selectable drive modes, so that navigating any form of terrain can become easier. This, paired with the available all-wheel drive w/disconnect feature, makes the Escape an ideal choice for navigating almost any kind of environment.
If you're interested in doing so, you can come by Baierl Ford at any time to test drive a Ford Escape for yourself. Come by when you can!